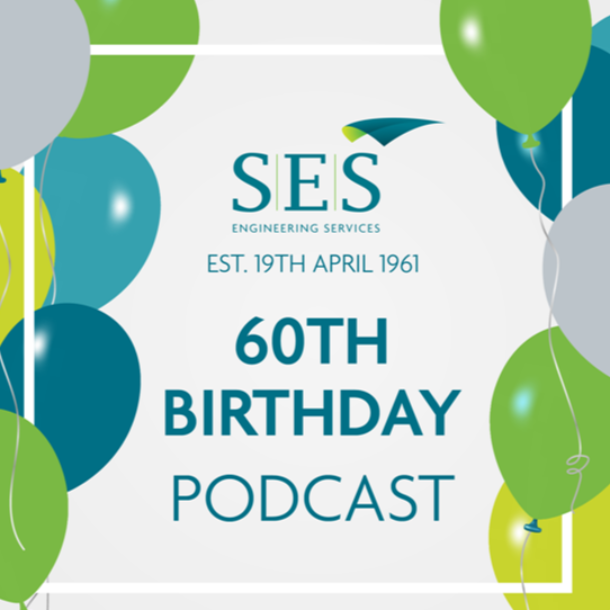 One of IMPACTUS Group's longest-standing and most valued clients, SES Engineering Services is celebrating 60 years in business on Monday 19th April. 
That is a massive milestone and as part of the celebrations, we recorded this Special Edition Podcast.
We meet the longest serving man, Dave Stoughair - nearly 47 years service and still counting, the longest serving woman, Sarah Jones - who started way back in 1982, the Managing Director, Steve Joyce, himself no slouch in the longevity stakes with 27 years service and one of their very latest, and youngest recruits, Megan Bailey who only joined the business in October 2020.
This is a genuine, heartfelt, relaxed and humorous celebration of SES (and the world of work) through the ages in support of their 60th Birthday.
Whilst, as you may imagine, there are obviously a number of internal reference points that will only resonate with those involved in the business, there are a lot of interesting and fun exchanges that look at all sorts of areas and reminiscences that hopefully will be enjoyable to a wider audience.
Things like;
Drilling holes through concrete with hand-tools before power tools were common on site
The Boss calling at your house to tell you where to report to tomorrow - long before WhatsApp
The Post-Room, a long-extinct staple of the office environment, long before email took over
Carbon paper and the blue handed colleagues
Smoking in the workplace - what the hell was that all about?
Early faxes that just said "Hello" and yet still fascinated the recipients
Sharing one PC with dozens of colleagues - and learning how to switch it on
Massive mobile phones and even bigger battery packs
Interview suits
And much more......
We even give a shout out to the heinous Findus Crispy Pancake and the £100,000 Findus French Bread Pizza.
All of this is punctuated by a few "pop classics" (plus Maria Carey)!
Come on, you know you want to listen or watch!
It was great fun to record, full of great stories and a great insight into SES Engineering Services and also the wider workplace over at least the last 47 of those fabulous 60 years.
If you are of a certain age (or even at the start of your career), this will either give you a warm glow of reminiscence or make you incredulous at how people used to work.
As Megan says, she would "die without her mobile phone". She may well have died trying to carry a mobile phone battery pack the size of a small filing cabinet in the early 90's.
Hope you enjoy!